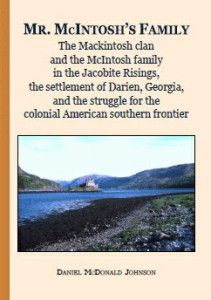 Mr. McIntosh's Family reports history and legend of the Mackintosh clan and the McIntosh family in the Jacobite Risings, the settlement of Darien, Georgia, and the struggle for the colonial American southern frontier. Available in print and on Kindle at amazon.com and other retail outlets.
Brigadier William Mackintosh of Borlum commanded a Jacobite army in the Rising of 1715 in Britain and participated in the Rising of 1719.
The Brigadier's nephew John – who was distinguished from the many other clansmen with the same name by the Gaelic word "mor," meaning big, and whose name was often written John McIntosh Mohr – went with him in the Jacobite Rising of 1715. As an adult, John Mackintosh Mor led the Highlanders who settled at Darien, Georgia.
The Highlanders were greeted by Aeneas Mackintosh, who served in a ranger troop that protected his relatives in the settlements of coastal Georgia. Aeneas Mackintosh returned to Scotland and became the 22nd Chief of Clan Mackintosh.
John Mackintosh Mor was taken prisoner in the Battle of Mosa near St. Augustine and held in a Spanish jail. His teenage son William escaped from Mosa and fought in the Battle of Bloody Marsh on St. Simons Island. Another son, Lachlan, served in the regiment on St. Simons.
In the Jacobite Rising of 1745 in Scotland, Aeneas Mackintosh remained loyal to the government while his wife earned the nickname Colonel Anne for rallying the clan in support of Bonnie Prince Charlie.
John Mackintosh Mor was released in a prisoner of war exchange and returned to his family in Georgia.
His family played a leading role in the campaign for independence from Great Britain.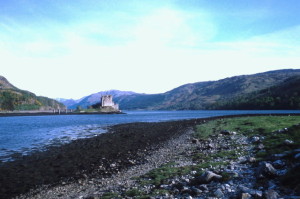 Jacobites including Brigadier William Mackintosh of Borlum used the Eilean Donan castle in the Scottish Highlands (shown above after its reconstruction) as an ammunition depot.
Spanish forces used the Castillo de San Marcos at St. Augustine, Florida (shown above) as a stronghold during the struggle for the colonial American southern frontier.