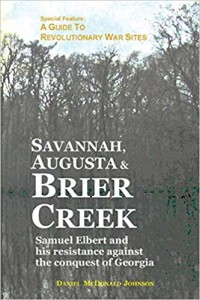 Savannah, Augusta and Brier Creek examines the British conquest of Georgia during the American Revolution from several perspectives. The first part is a narrative history starting with the capture of Savannah by British troops, continuing with the march to Augusta led by Archibald Campbell, and culminating with the British victory at Battle of Brier Creek, which resulted in the resumption of colonial rule over Georgia. The narrative focuses on Samuel Elbert, the commander of Georgia's Continental line, who resisted the capture of Savannah, harassed the march to Augusta, and made a valiant stand at Brier Creek before being taken prisoner.
The second part presents stories of dubious validity arising from the Battle of Brier Creek, and places them in the context of folklore and Arthurian legend.
The third part provides a biographical sketch of Samuel Elbert, who distinguished himself in the American Revolution and later served as governor of Georgia.
The fourth part contains a visitor's guide to the Brier Creek Battleground and other Revolutionary War sites along the Savannah River from Savannah to Augusta.